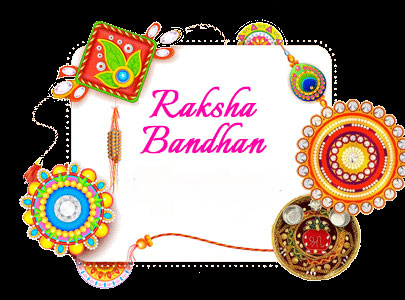 Rakhi Gifts for Worldwide Delivery
About Rakhi / Rakshabandhan
At this Rakhi festival, the sisters usually place tilak on their brothers' foreheads, tie a sacred thread called rakhi around their brothers' wrists, perform arati, and pray for good health and long life for his brother. This thread, representing exalted love and feelings, is called "Raksha Bandhan" which means "Band of Protection". In return, the brother gives his sister a gift and vows to take care of her. The Rakhi festival (protection knot) in India marks the sacred relationship between brother and sister.
It's a special brother and sister festival. We offer Raksha Bandhan gifts online for special occasions, people of all ages can realize the true value of having their brother and sister in their life. The bond of love between brother and sister is one of the most beautiful relationships on earth. This holiday brings the sense of a strong and divine bond between brothers and sisters. The Rakhi festival strengthens the warm relationship and love between them.
On this auspicious day, sisters tie a rakhi/raksha bandhan around the wrists of their brothers and wish them lifelong freedom from all evil influences. In return, the brothers also promise to protect their sisters from any strange situation at all costs. The right opportunity to offer gifts and sweets to your brother and his family online. According to Indian tradition, rakhi (sacred thread) and sweets (methai) are prepared long before Sravan Purnima, family members prepare for rituals early in the morning. They take a bath to cleanse the mind and body before starting the preparations. The sisters prepare the puja thali which consists of roll, tikka, rakhi threads, rice, aggarbattis (incense sticks), diyas and sweets. After performing rituals to the family deities, the sisters perform their brothers' aarti and tie a rakhi around their wrists. and they sprinkle kumkum powder on the brother's forehead and offer sweets.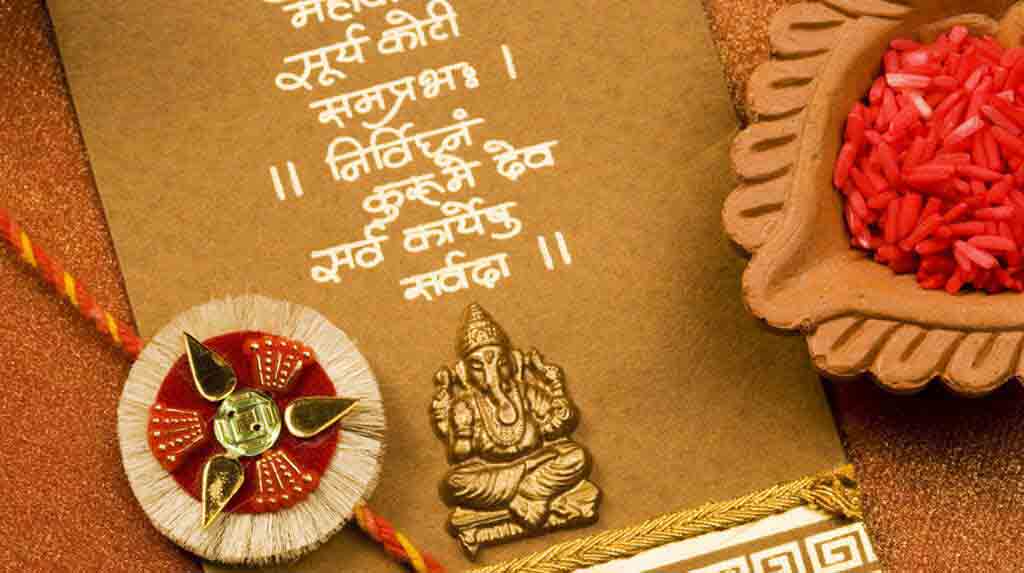 Stories behind reason for celebrating Raksha Bandhan
Indra and Indrani
Turns out, Raksha Bandhan wasn't just meant as a symbol of sibling love, as is illustrated by the story of Indra and Indrani. During a war between Gods and demons, wherein Indra was losing to King Bali, Indra's wife Indrani prayed to Lord Vishnu who gave her a sacred thread to tie around Indra's wrist. Blessed with its powers, Indra won the war and the thread became his protection against any evil.
Krishna and Draupadi
It's said that after Lord Krishna hurt his index finger while hurling the Sudharshan Chakra at Shishupala, Draupadi tore her saree immediately and tied it around Krishna's finger to prevent it from bleeding. Touched by her unconditional love, Krishna took the mantle of Draupadi's care and protection upon himself.
Queen Kunti and Abhimanyu
Queen Kunti and Abhimanyu It is said that in,during the Battle of Mahabharata, Queen Kunti tied a sacred thread around the wrist of her grandson Abhimanyu,son of Subhadra and Arjuna during Mahabharata.
King Bali and Goddess Lakshmi
Lord Vishnu disguised as the guardian of "King Bali – grandson of Vishnu Prahlada" – Goddess Lakshmi came to Vaikuntha (her cornerstone) concerned about his absence. She came to earth disguised as a Brahmin women and told Bali a story about how her husband had come to work and asked the king for a shrine. Bali not only gave her a place to sleep but also took good care of her. It is said that on the full moon day (Purnima) of the month of Shravana, she tied a thread around Bali's wrist with prayers for his protection and good luck. Touched by her affection, Bali granted her wish. She asked him to release her husband, the Lord Vishnu. It is also true that Lord Vishnu and Goddess Lakshmi revealed their true characters to the king, who invited Vishnu to return to Vaikuntha with the goddess. The festival is also known as Baleva.
Santoshi Maa
Seeing Lord Ganesha celebrating Rakhi with his sister, his sons Shubh and Labh began to harass his sister, resulting in the creation of Santoshi Maa from the flames that arose from his consorts Riddhi and Siddhi.
Alexander the Great's wife Roxana and King Porus
During Alexander the Great's invasion of India in 326 BC. His wife, Roxana, sent a sacred thread to Porus, asking him not to harm her husband in battle. On the battlefield, the wire on her wrist would have been a constant reminder of her promise to Roxane and would have prevented her from attacking Alexander directly.
Rani Karnavati and Emperor Humayun
Rani Karnavati - Dowager Queen of Chittor - allegedly sent a rakhi to the Mughal Emperor Humayun, who was facing an imminent invasion by the Gujarat Sultan Bahadur Shah. Although Humayun arrived late, it's no secret that he respected the feelings he was sent with.
Yama and Yamuna
Yamuna was the sister of Lord Yama, the god of death. During each Shravan Purnima, Yamuna used to tie a sacred thread (rakhi) to Lord Yama. Since then also sisters tie rakhi to their brothers on this day. In return, brothers bless their sisters and promise to protect them from any troubles and troubles they might encounter.


800
#showLoadIcon
.ajaxProducts
Q. How can I Send Rakhi To India & abroad? A. India Gifts Mall is a complete shop for send Rakhi to India & Other Countries.
Raksha Bandhan Thread Ceremony Time - 10.58 AM (Wednesday 30th August ) to 07.05 AM - IST (Thursday 31 August 2023) Rakhi Muhurat Starting - 09.05 PM - IST (30th August 2023)
Purnima Tithi Begins - 10:58 AM - IST (30th August 2023)
Purnima Tithi Ends - 07:05 AM - IST (31th August 2023)

Raksha Bandhan is a festival which ritually celebrates the love and duty between brothers and their sisters. India Gifts Mall brings out a good collection of Rakhi for deliveries in India & abroad. Send your love & care through our gifts which can be delivered worldwide.